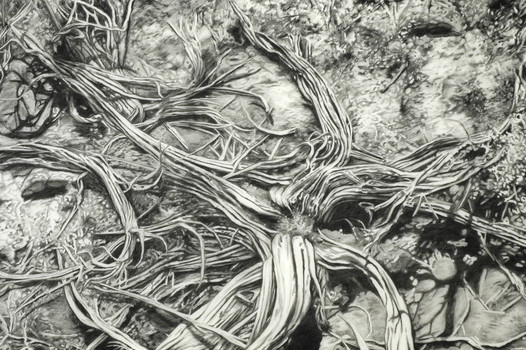 Sage Drawings
Sage Drawings. 2012-present.

While hiking the high desert in Taos, New Mexico, I became fascinated with the forms of eroding sagebrush. The serpentine forms embody the entropic process, capturing the transition of these plants from a state of growth to one of dissolution. I begin by photographing the plants, turning my gaze downward towards the ground and I find that these images of decay are filled with movement, pattern, and grace. Working from the photographs, my drawings explore the tensions between pattern and complexity, beauty and chaos.

In the earlier pieces (from 2012-2014), I severely cropped the images so that the forms are abstracted and ambiguous, reminiscent of root systems and microscopic images of bodily vessels. The drawings are on translucent mylar, and in some I have layered charcoal drawings with other drawings and/or archival ink jet prints. I also have experimented with ways of installing the drawings that reinforce the depth of the tangled, twisted shapes and that resist the contained order of the grid.

I'm currently working on a series of large-scale (42"X96") landscapes that have been developed in relation to (and in tension with) the 18th century notion of the sublime.
These are less abstracted and more realistic than the earlier work, and focus on abject and mundane spaces rather than the grand vistas of the tradition with which we are familiar. Life-size details of the New Mexican high desert depict entropic spaces comprised of eroding sagebrush, weeds, and soil, referencing decay and abjection, while also embodying the beauty of the organic patterns. It is within the boundaries and tensions of these "humbler" landscapes that I feel I might explore a sense of the contemporary sublime.

---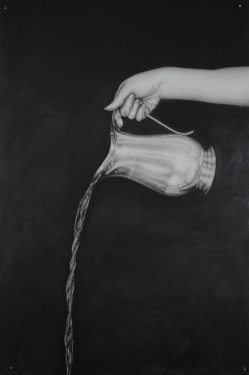 Miscellaneous Drawings.
Half Empty/Half Full. 2011. 24"X36". Charcoal and graphite on mylar.